Estate Agents fees are down - but not as low as ours!
Posted: 23/5/2016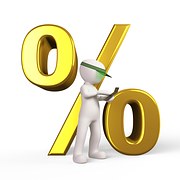 An estate agency comparison website says that the average estate agent's fee nationwide is now 1.1%.
The site, netanagent, found the most expensive average fee was – perhaps not surprisingly – in Kensington, London, at 1.63%.
This appears to be a fall in fees, possibly brought about by on line agents, but we think that in many cases 1% is still too much to pay to sell your house.
Our fee for selling is £500 with no VAT, so for a property at £150,000 that's 0.33%. At 1% you will pay £1800 inc VAT and that's the fee only, not the marketing costs. Our marketing package which includes Property News and Property Pal, is from £99, again with no VAT, so you can therefore sell your home, all in for only £599. Our set fee is for the first £200,000, thereafter it is still only 0.5%.
We believe in fair fees for home sellers and we believe that our service is better than that which many agents charging three, four, five times our rates will give you. If you are moving, give us a call, unless you have money to burn of course..........keyone@btinternet.com or 9045 6162.
Fees subject to our standard terms and conditions.