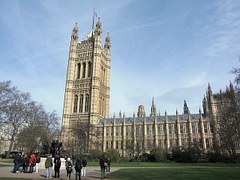 Landlords should be made to "squeal" under the new tax clampdowns on buy-to-let, a Treasury minister has said.
The minister made the remark in a private meeting with the Residential Landlords Association, which said it was shocked by it.
Alan Ward, chairman of the RLA, said: "We went to raise landlord's concerns with specific reference to . . . the Government's taxation policies towards private landlords.
"We wanted to make the case that we have a history of a significant contribution to housing and that this crackdown is unfair and prejudiced.
"The minister's comment was that if landlords are squealing, then the Government will take the view that the medicine is working.
"The minister made the point that the Government is determined to increase the number of home owners, and then reiterated the issue about first-time buyers.
"We were all a bit taken aback by the comment. We could hardly believe our ears."
Ward declined to name the minister concerned.
PLEASE SHARE OUR POSTS WITH SOMEONE YOU THINK MIGHT BE INTERESTED IN NEWS ABOUT PROPERTY.