Covid deters half of renters from moving
Posted: 14/7/2021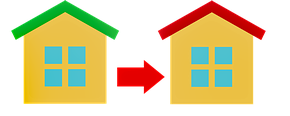 A recent survey reveals that 53% of renters have been put off moving due to the pandemic.The primary reason given for not wanting move home relates to not feeling safe (40%), while almost a third – 31% – of the 1,313 renters polled said that things were too uncertain to plan ahead.
Other reasons give for not wanting to move home include:
I lost my job/was furloughed – 18%
I didn't want to go to viewings – 5%
Other – 4%
My landlord reduced the rent – 2%
However, of those who were put off moving, just over half – 54% – now plan to move within the next six months and a quarter – 24% – plan to move in the next year.
This suggests that confidence is rising and the market is starting to pick up again now restrictions are easing. Not everyone feels this way though, 14% of those who put off moving still do not feel safe to make this step yet.
Landlord ?  we will let your property without charging you a penny in VAT.
NB. Poll by Spareroom.