Does my bum look big (in this agent's window)?
Posted: 24/12/2016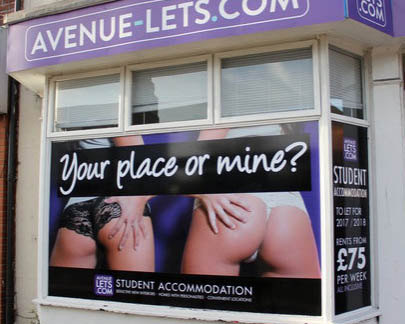 A picture of all-but-bare bottoms in a letting agent's window has been causing a stir after the image was posted on social media.
Residents in Hull said the full-window display was 'inappropriate' and in 'bad taste', and 'objectifying women', with calls for it to be taken down as schoolchildren walk past the window each day.
One resident said: "I hope to bring my sons up to respect women, but how is that going to happen when there are adverts like this in plain sight?"
Others thought it meant that an adult shop would be opening in the premises of student letting agency Avenue-Lets.
The Hull Daily Mail quoted local councillor Mike Ross who said he had received several complaints about the advert.
He said: "I would say businesses need to think carefully about using advertisements to show exactly what it is they are selling.
"It is something that has definitely got the residents talking."
However, Avenue-Lets said it had been complimented.
A spokesperson told the Hull Daily Mail: "The images used are from the Advertisement Standards Agency, these are not images we have produced ourselves, and we have received more than 20 compliments for using them.
What do you think? Has this agent's marketing hit rock BOTTOM or is it just a bit CHEEKY?
Key One Property - Low fees for landlords and home-sellers.