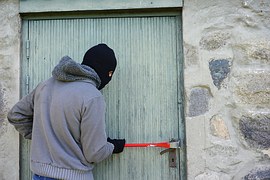 A survey of 2,000 victims of burglary was carried out by Churchill Home Insurance and Dr Claire Nee of the University of Portsmouth.
Nearly half said the worst aspect of being burgled was the knowledge that someone had been in their home.
Victims went on to suffer insomnia (25%), illness (8%) and loss of confidence (6%).
The report finds that 1.3m moved home as a result of being burgled, adding that the figure is based on extrapolating 13% of the 10m who were burgled in the UK in one year.
It is somewhat mystifying to suggest that more burglary victims moved house in a year than the total number of home-movers !
Regardless of your reason for moving, we at Key One Property aim to reduce both the stress and cost.
We have a fixed sale fee of £500 (no VAT) for properties up to £200,000.