Mortgage problems to blame for the majority of house sale failures
Posted: 13/10/2016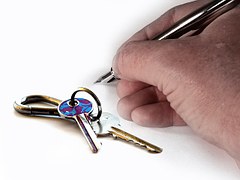 Despite recent market condition improvements that have seen the price of mortgages fall, problems with house purchase loans are still the main reason for sales of homes falling through in the UK, it has been revealed. 

According to findings from Nottingham Building Society, which looked at the past five years' activity, as many as 34 per cent of all attempted sales across the UK fall through as a direct result of problems with mortgages. 

Sellers are surprisingly more likely to have problems with a mortgage as they try to move up the ladder than buyers, with the building society saying that up to twice as many problems that cause sales to fall through are as a result of sellers rather than buyers coming across issues. 

"It is worrying that the successful outcome of many housing transactions relies so heavily on people getting the right mortgage for them very early on," said Su Snaith, head of estate agency at The Nottingham.

However, mortgage conditions are not the only reason for house sales having fallen through. According to the report, there are still many instances of buyers having committed to making a sale before they get cold feet and pull out. 

Whether people are simply deciding not to buy a home or they have seen something else they prefer is unclear, but what is true is that as many as 32 per cent of sellers who had a sale fall through said it was because the buyer decided not to follow through with the sale. 

The report also found that there are some people who have suffered the negative effects of sales falling through more than once in the last five years. As many as one in every six sellers said more than one house sale had been cancelled on them, while 11 per cent of buyers said they had experienced similar disappointment.
If you are thinking of selling you will be please to know that we charge only £500 fixed fee with no VAT (up to £200,000).