The Brexit Effect & Property
Posted: 26/7/2016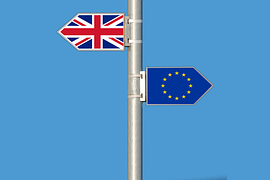 The post Brexit vote pendulum swings, with more positives and negatives bouncing into the property market every day.
Some commentators report that overseas buyers are making a killing on UK property because of exchange rates, while others say that foreign investment is stalling as banks get picky about loans for UK properties – Singapore's United Overseas Bank has temporarily stopped lending on London properties while others make worried noises. 
The Bank of England may be pleased that the housing market has slowed, the prediction was that a Leave vote could mean a fall in house prices of 10-18 per cent – again, good news for some, terrible news for others. Developers like Galliard Homes, who allowed buyers get-out clauses in the event of a Leave vote, report that very few had, so far, taken that up.
One of the more negative vibes came from Zoopla, saying that the average UK home value will fall by £53,000, from its current level of £297,000 – 18 per cent. Bank of America Merill Lynch put their best guess at a 10 per cent fall, KPMG said five per cent.
Dominic Agace (left), CEO of Winkworth says, "We saw this last year with the General Election, with a quieter period in terms of transactions in the lead up to the vote, and so we anticipate a similar effect in the lead up to Referendum. However, the UK and London in particular has always had a draw for foreign investment, not only from Europe but much further afield, and I would expect this to continue whatever the outcome, especially as people come for many reasons including schools and the lifestyle."
Adrian Gill (right), Director of Your Move and Reeds Rains, said, "The Brexit result won't change the fact that huge numbers of aspiring first-timers want to buy a first home, and lots won't want to wait out the two years until the renegotiations over the EU have been completed.
"In the short-term, the wider market wobbles may benefit first-timers, giving them the leverage to negotiate harder and get a good deal."
BREXIT MAKES NO DIFFERENCE FOR OUR FEES - SALE FEE £500 UP TO £200,00 AND 0.5% THEREAFTER. LIST FROM £99. NO VAT.